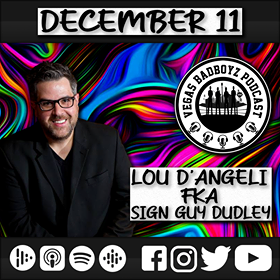 Episode253-Lou D' Angeli (Sign Guy Dudley) [Matt Michael's "People I Don't Hate"]
On this episode of "Matt Michaels' People I Don't  Hate" Matt is joined by one of the most talented managers in wrestling history Lou D'Angeli. Better know as the ECW original 'Sign Guy Dudley' and 'Lou E. Dangerously', Lou takes us into the world of ECW and how he got started. 
We hear his memories of the infamous ECW Heat Wave 2000 and how Road Kill saved him during the street brawl with XPW. Lou gives us the perspective of how ECW was a family and what kind of fun they had with each other. Lou and Matt talk about some of the bands that influenced Lou during the late 80's and early 90's. 
And we talk about the friendship Lou formed with Smashing Pumpkins front man Billy Corgan. Tune in for this informative and entertaining episode only on the Vegas Badboyz of Podcasting! 
And please remember to subscribe, download, listen, review, and share all of the shows from the Vegas Badboyz of Podcasting.
Follow Vegas BadBoyz
👇🏼
Vegas BadBoyz Merchandise: