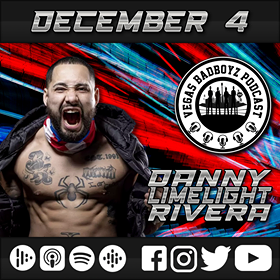 Episode249-Danny Limelight Rivera
On this episode of "Matt Michaels' People I Don't Hate" we welcome Danny "Limelight" Rivera. We get into how Danny has tied his Puerto Rican pride into his character. 
He talks about appearing in promotions like New Japan and AEW. We get into how his military experience has transferred to his wrestling experience. Danny talks about 'Championship Wrestling from Hollywood' and 'The United Wrestling Network'. Danny thanks David Marquez for his success.
And most importantly Danny talks about his love for his daughter and how she is already getting professional acting jobs at 6 years old! 
It's an informative conversation with one of wrestling's up and coming stars! And please remember to subscribe, download, listen, review, and share all of the shows from the Vegas Badboyz of Podcasting.
Follow Vegas BadBoyz
👇🏼
Vegas BadBoyz Merchandise: