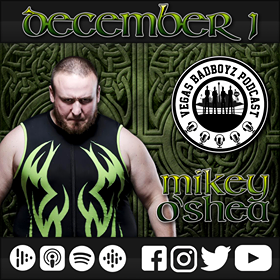 Episode247-Mikey O'Shea
On this episode of "Matt Michaels' People I Don't  Hate" we welcome Mikey O'Shea. We get into how Mikey got started as a wrestler. We talk about Mikey's experiences with the WWE. 
Mikey talks a little bit about wrestling Damian Drake. And we cover some of Mikey's favorite video games. All this and much more that you can find right here on the Vegas Badboyz of Podcasting! 
And please remember to subscribe, download, listen, review, and share all of the shows from the Vegas Badboyz of Podcasting.
Follow Vegas BadBoyz
👇🏼
Vegas BadBoyz Merchandise: